Meeting and event planning
Feel at home in Versailles
Meetings, cocktail parties, or other events can be planned in this original, welcoming, and comfortable place, having a yard, a few steps away from the Palace of Versailles.
An incredible situation
Located in an amazing place at the foot of the Château de Versailles, this house is at your service for your meetings, seminars, cocktail parties, and receptions. You will feel at home in this historical place from where you can see the Salle du jeu de Paume, well-known for the Tennis Court Oath during the French Revolution.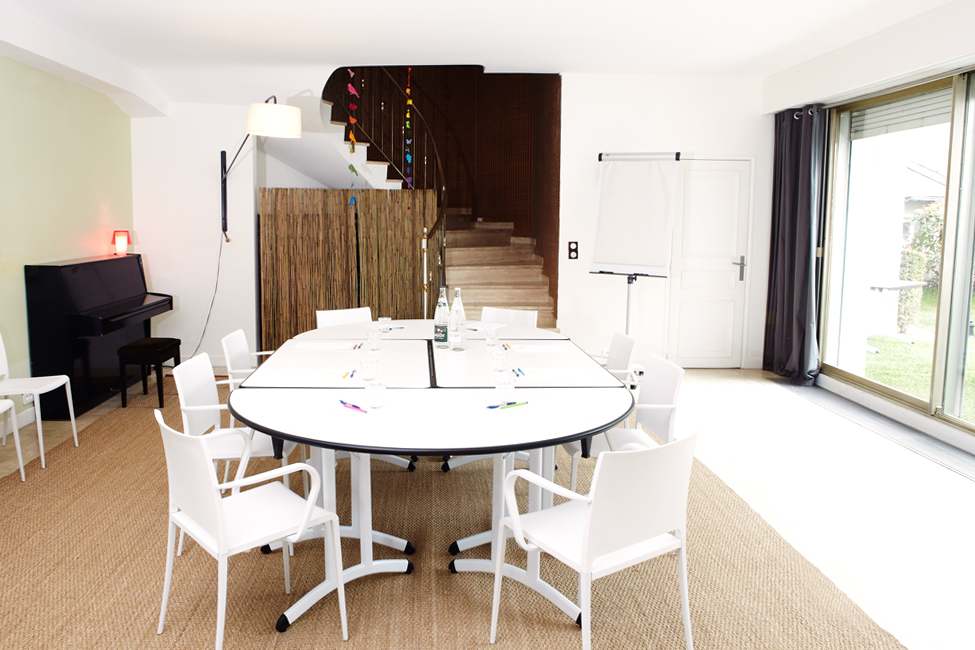 Adjustable rooms
Different layouts are available :
U-shape
Theater style
Classroom style
Boardroom style
Whatever setup you choose, you will enjoy a view on our lovely yard, which is so unique to have at the very heart of Versailles ! You might even have the chance to hear a Mozart requiem or a Beethoven symphony while in the garden, coming from the Versailles Music Conservatory!
The yurt
Up to 15 people, you can also choose to gather in our U-shaped yurt, equipped with a video projector and a paperboard. (Yurt rental for a day is at 300€, exc. tax)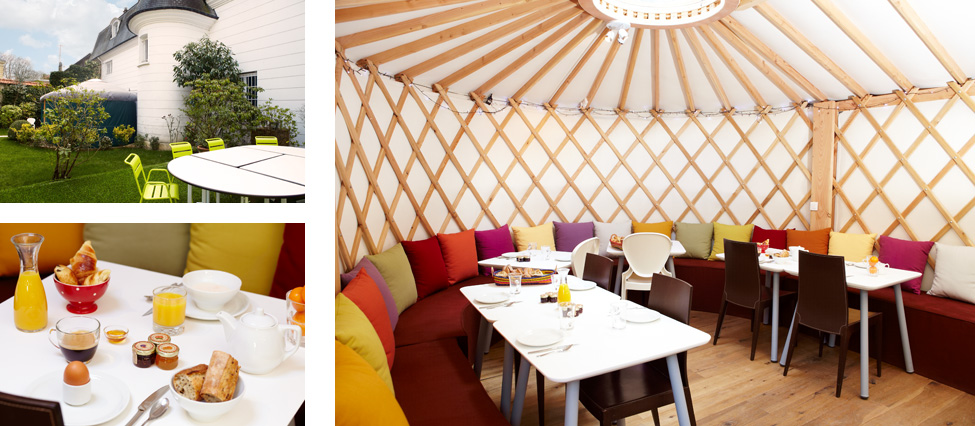 Catering: snack, lunch, aperitif and barbecue
Every meal or snack is made out of homemade high-quality products.Let's talk together about what you want, so we can satisfy you in the best possible way. If you want to eat in the house, we will adapt and offer you original or traditional meals : old-fashionned home cooking, homemade buffets, grill on the barbecue in the summer...
Our different services :
Breakfast
Morning snack (need to decide together before: sweets, cakes, local products...)
Aperitif on the terrasse
Lunch in a warm and friendly atmosphere with view on the garden. Homemade starters, main courses and desserts. We can also make familal dishes (daube de bœuf, carbonnade flamande, hachis parmentier, fish curry, carpaccio, fishes, rosted meat...), barbecues and cocktails.
Afternoon snack (again, the snack composition must be decided before)
Services and Leisure
We can also plan for you some activities for the attendees to enjoy during your seminar. Here are a few examples :
Segway rental for a fun visit of the Palace of Versailles
Ticket reservation for Bartabas hors shows at the Académie équestre
Personnal tour guide reservation for your visit of the Palace of Versailles
Versailles city tour planning, with all its secrets and its wealth
If you want to customise your meeting or seminar, Elise and François, the owners, will be pleased to help and guide you in order for your event to be warm, authentic, and professional.
Please call us at +33 (0)1 30 84 14 00 ou e-mail us at contact@hotel-jeudepaume.fr